Tuesday, May 25, 2010
Universal Studios Singapore(USS)

I figured out that the time was ripe for me to go Universal Studios Singapore. Every Singaporean needs to go there at least once to experience our very own world class attraction.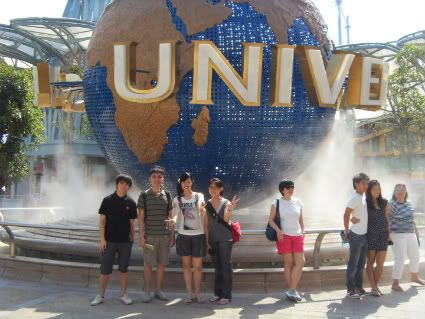 And so I went with Huixiang, jinjin and weibin. Initially it was really hard for us because not all the friends like wild rides and much more, the pricing of the entry tickets are not welcoming. We couldn't be going in a small group because it won't be fun but luckily everyone of us who went, made it possible.
We meet up really early in the morning, like 8:30am so that we won't be missing out a single bit of the play time. We had our heavy breakfast early so that we will not be having a full stomach by the time we had our first hardcore rides.
To our disappointment(when we reached the inside), we can see from far that the cyclone(BLUE) and human(RED) tracks has no rides on it. We bluff ourselves that maybe the rides will be up in a few hours time.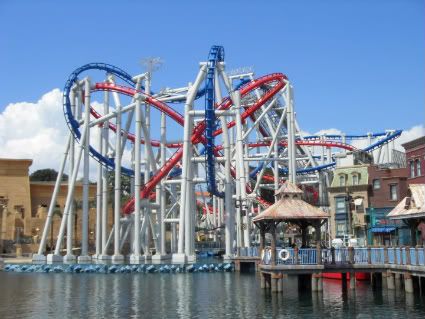 Major disappointment was that(upper). BUT the second disappointment is the weather. I think it was 40 degree celsius under the hot sun. But luckily it wasn't raining or else half of the attractions would be wasted.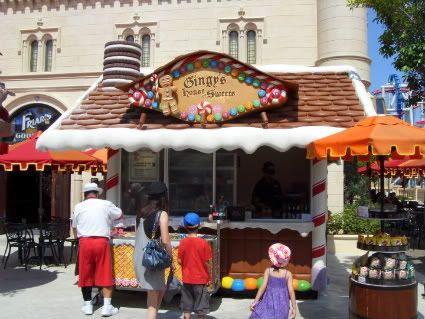 Super Hot!
Sometimes I kind of pity the tourists from other countries that come to USS because that day was frightening hot. Almost every rides required queueing up and I can see their face changing from happy to bored. Not only that, they just keep wiping off their drizzling sweat.
Hollywood
We started off at the entrance, Hollywood. It's kind of similar to New york that I sometimes mistaken it with Hollywood. I like the setting because it looks like the 1960s classic streets taken out from the movies. Along these streets, it has characters like Frankenstein and Charlie Chaplin coming to life that are open for photo taking.
Something good about it is that you can pass your own camera to them and they will take really good photos for you, FOC. The queue are rather fast because they will take and go. However, these mascots or fake Frankenstein also need their lunch break, so they will stop the line and come back later.
Madagascar
We made a left turn from Hollywood to Madagascar. It's like walking to a brand new world, jungle-like. However, A Crate Adventure, which is their main attraction is under 'coming soon' which made this spot a boring one. The other one is for kids which is kind of like merry-go-round but with Madagascar's characters.
Nothing much here. We quickly moved on to next spot after seeing Shrek and pretty princess Fiona.
Far Far Away
We quickly rushed for photo taking and the line seemed longer than usual. I finally realised why. The people requested for single instead of group photos. We quickly pretend that we don't know each other so that we can have less prevailing photos.
In Far Far Away, we also went for the Shrek 4-D adventure which is a must try. Be warned that you need to listen to instruction that lasts longer than the real show itself. Recently, it is very popular to have long instructions before any 4D rides. The 4D ride in Sentosa also adapted this approach.
It shows shrek trying to save princess fiona yet again. (why is princess fiona so weak? always get caught) Everything is in 3D but the 4th D comes with moving seats and water sprinkled onto the face. Under the seat also has a string that sprang into action to make people think that there are tarantulas coming your way!
We also tried the Enchanted Airways by queueing 30 minutes while the real junior roller coaster ride is about 50 seconds.
The Lost World
Dino-soarin' is for kids but we try it nevertheless. You have to hold on to the white button in order for the dinosaur to fly up. If you let go, it goes down down down!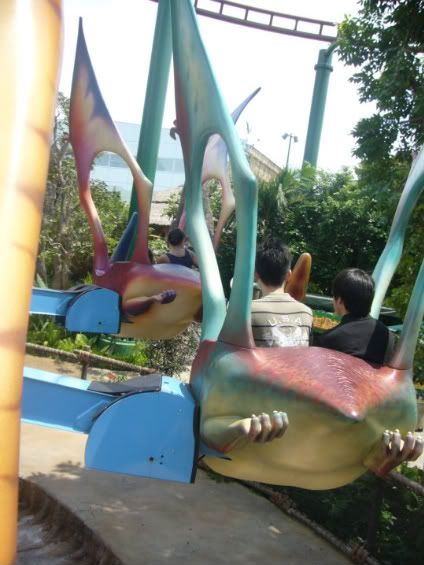 Canopy Flyer is the longest waiting time ride that we took. We need to wait 40 minutes and the ride is again 40 seconds? According to the girls, who sat facing the front, it was thrilling and exciting but for us, the boys, felt nothing at all. NOT EVEN WIND! So opt for the front seats if you can.
I later bought a Jurassic theme bag at the dino-store which I think is a very cool bag. I used the $5 retail voucher at here which means my entrance ticket is reduced by $5 as it is included at the $66 entrance ticket.
Ancient Egypt
My favourite spot. I always wanted to go Egypt on a tour if I had the chance but couldn't. Now I can at USS because it is greatly decorated with Egyptian stuff down to every single detail. I love the gigantic statues and the walls curved with drawings that are all so real.
Revenge of the Mummy: The best indoor roller coaster ride can be found here because it is fully air-conditioned. Before you take the ride, you need to travel along a maze that has many artifacts. We love this ride so much that we took it 3 times.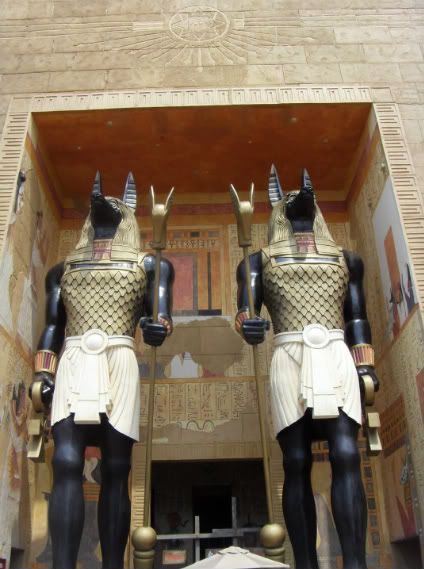 The ride is inside the pillars of anubis
Not only that, the shop also sells many gold like Egyptian stuff but at a costly price. We also took photo with the Egyptian guard.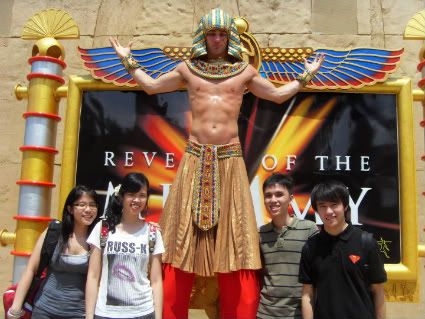 Sci-Fi City
This place should be packed with the most people because the Battlestar Galactica Cyclone and human are located here. This is the real reason for any roller coaster fans out there to pay so much for the tickets but it's down for maintenance :( COME BACK FAST!
We also tried the tea cup spinning ride called 'Accelerator'. It looks really cool but it is no fun at all. It is very difficult to spin because the core is like stuck or something. Teacups should make us dizzy and able to let us spin until we die but we experience none of that.
New York
There's a really cool attraction by Steven Spielberg which makes you feel the fire burning, wind blowing and the sound effects of many things that you can only see in movies.
But there's even more things we can experience in USS, ships crashing into the building, kerosene leaking which leads to fire spreading on the surface of the water and boat falling from above splashing water at the front row audiences!
In New york, you can find many buildings and statues to take photos with.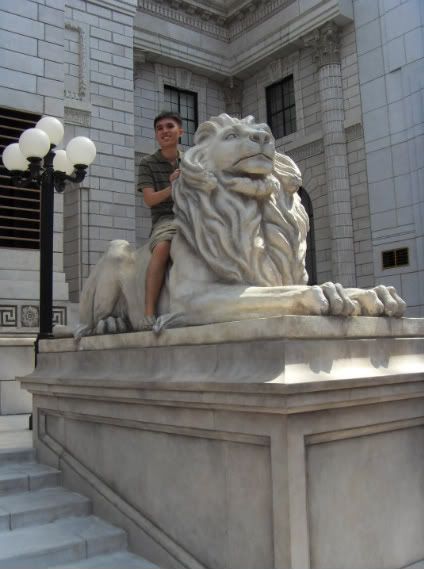 Back at Hollywood again!
After that, we found ourselves at Hollywood again. We watched a rock and roll musical in Pantages Hollywood Theater which contained monsters coming to life. One of the monster even mimic the Wondergirls's 'Nobody' and the other sings 'The moon represents my heart' in mandarin which he himself is a Caucasian.
We also went to The brown Derby to play with hats. We simply took loads of photos with the hats but never buying them.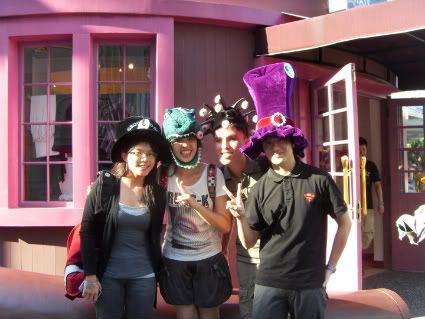 We dine at Mel's Drive-In with each set costing at about $9 which includes a huge burger, fries and drink. We used the last dining coupon of $10 which finally deducts $10 off the entrance ticket of $66.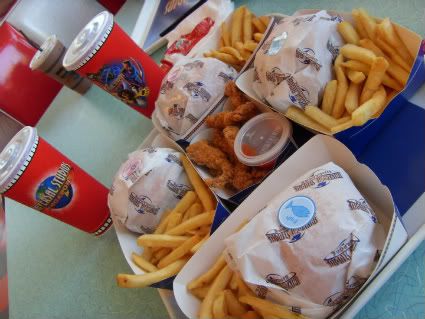 Hence, if you asked me whether is it expensive to go USS? I would say it's actually $51
$66 - entry ticket price
($10) - dining coupon to be used at USS
($5) - retail coupon to be used at USS
$51 - actual price
At the end, we went to Vivo's starbucks to chill out. That's how we complete our fantastic 4 day!
P/S: The post is not written in order as to when we were at USS.